Amalgam fillings, or silver fillings, can last a very long time. However, eventually these fillings will need to be replaced. Generally speaking, most dentists no longer place amalgam fillings. The type of replacement restoration needed depends on the size of the existing filling as well as the health of the tooth.
Why replace an amalgam filling?
Amalgam fillings tend to expand and contract within the tooth with temperature changes. When this occurs over a long period of time, crack lines form in the teeth. Additionally, amalgam fillings separate from the tooth over time because they are not bonded to the tooth. We don't recommend replacing amalgams just because they are old fillings. We recommend replacing amalgam fillings when we see breakdown.
Cracked Teeth
Crack lines in teeth lead to tooth fracture. When we see crack lines, we recommend replacing the amalgam filling with either a composite filling or a crown.
Amalgam filling separation
When amalgam fillings separate from the tooth, bacteria is able to enter the void and cause tooth decay. When this occurs, the amalgam filling needs to be replaced with a better material.
Amalgam Filling Replacement Restorations
Composite Filling
We use composite fillings to replace amalgam fillings if there is enough supporting tooth structure left after removing the old amalgam and any recurrent decay. A composite filling is a tooth-colored resin material that is applied and hardened to the void with a special light. This "bonds" the material to the tooth to restore the health of the tooth. These bonded fillings are less likely to cause cracks in teeth.

Crown
A crown is a tooth-shaped covering that is placed over a tooth to restore its shape, size, strength, and improve its overall appearance. Crowns fully encase the visible portion of the tooth. A crown is required after amalgam filling removal if the tooth has crack lines that can't otherwise be restored. A tooth also requires a crown if there is not enough supporting tooth structure left after we removed the amalgam filling.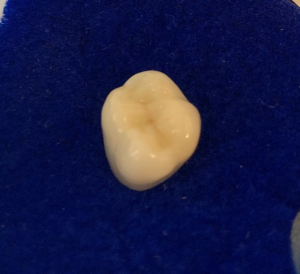 For more information on composite fillings or crowns, click here. If you have any questions about whether or not your amalgam fillings should be replaced or why we are recommending replacement, please feel free to contact us at 919-866-1360 or click here to reach us online.