If you are suspicious that you have a cavity, it is important that you see a dentist immediately. If you've never had a cavity, you may have some questions about the process. What is the process to treat a cavity? Does it hurt? Will your tooth look the same? How long will it take?
These are all common questions.  Adams and Cheek Dentistry is here to help answer your questions, calm your fears, and help treat a cavity!
What Is A Cavity
A cavity is a hole or void in your tooth caused by dental decay.  Acid-producing bacteria eat the food you eat causing decay.  Like all wounds or infections, cavities range in size and severity.  A common misconception about cavities is that they do not need to be addressed until they hurt. However, when a cavity starts to cause you pain, it is likely the decay has advanced deep into the tooth reaching the nerve.  If you suspect you have a cavity, it is VERY important to schedule an appointment with your dentist immediately.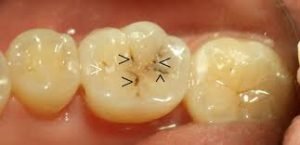 Treatment For Cavities
There are several ways to treat a cavity depending on size and severity. Here are some ways we treat cavities in our office.
Composite Restoration or Filling
A filling is a procedure in which decay is removed and a tooth-colored resin material is applied and hardened to the void with a special light. This ultimately "bonds" the material to the tooth to restore the health of the tooth.  The size of a filling depends upon how extensive the decay is in a tooth.  Additionally, the length of the appointment depends upon the size of the filling and the number of fillings completed.
Crown
A dental crown replaces the enamel shell of the tooth to restore its shape, size, strength and/or to improve its appearance. A buildup is often necessary to create a strong foundation for the crown.  Crowns are available in different materials.  Crowns can be entirely tooth colored, entirely gold, or tooth-colored porcelain on top of a metal core.  In order to treat a cavity with a crown, you will need to come in for two appointments.  During the first appointment, decay is removed, the tooth is restored with a buildup, impressions are taken for the lab, and a temporary crown is placed.   Two weeks later you will return for delivery of the final crown precision crafted in the lab.  The second appointment is typically a shorter appointment.  Most patients do not need to be numb for the delivery of the crown.
Root Canal Therapy
This treatment repairs and saves a badly decayed or infected tooth. Root canal therapy removes the nerve and pulp from the inside of the tooth. The tooth is then cleaned, disinfected and the root system is filled. Without treatment, the tissue surrounding the tooth will become infected and an abscess may form.  After a tooth has a root canal, a crown is necessary to protect the root canal from re-infection.
Your dentist will examine your mouth and, if any decay is present, he or she will recommend the appropriate type of restoration to treat a cavity.
Treating a cavity should NOT be painful.  Prior to any of these procedures, your dentist will administer anesthetic to the area being treated.  Before they start, and as they begin the restoration, they should make sure you are comfortably numb.  You may feel pressure but should never feel pain.
Adams and Cheek Dentistry is dedicated to providing our patients with painless, quality care. Call our office at 919.866.1360 or click here to request an appointment.