Dr. Adams was recently inducted into the 2022 Berea School District Distinguished Alumni Hall of Fame in Ohio where he attended Midpark High School. This prestigious award was presented on behalf of the House of Representatives of the state of Ohio.
This Distinguished Alumni Award was based upon many honorable attributes. To highlight, Dr. Adams was honored for his civic concern and dedication with selfless initiative. He shows devotion to service through his leadership of multiple mission trips and free clinics provided over the last 30 years. Additionally, this award applauds Dr. Adams efforts to continuously give his time, energy, and abilities to better the world around him.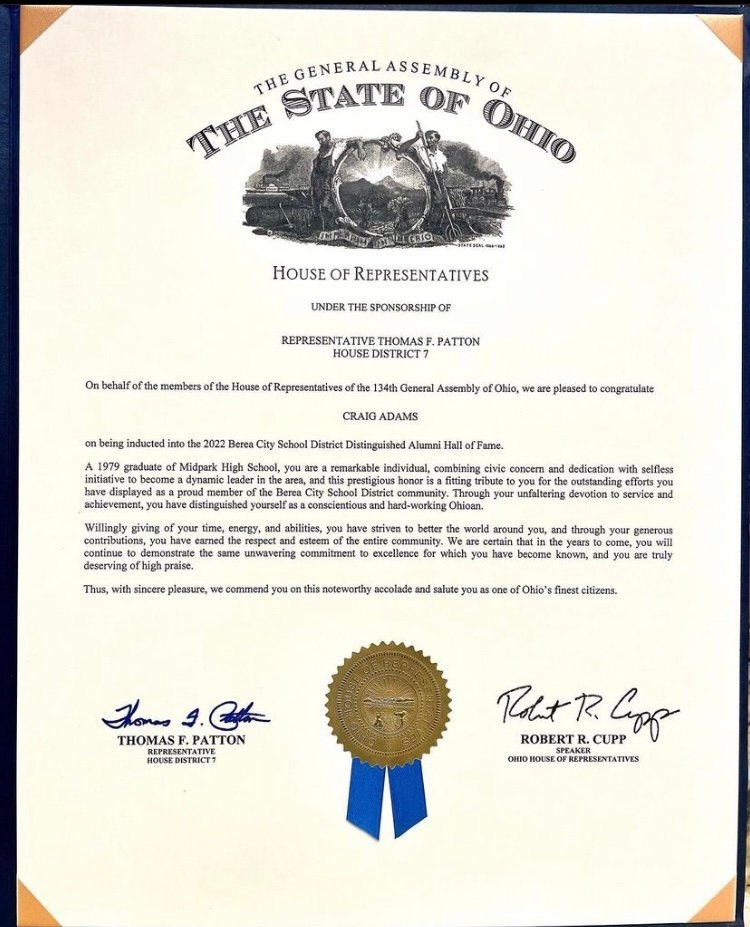 Accomplishments
Miami, OH, Chemistry, BA Degree, 1983
University of Kentucky School of Dentistry, 1987
Full academic scholarship at UK School of Dentistry years 2,3,4
Top 10% of UK School of Dentistry all 4 years
Faculty voted as "Top Clinician" at graduation from UK School of Dentistry Consumer
Research Council of America America's Top Dentists 2009 INDY Best Dental Practice of the Triangle 2011
General Dentistry Top Doctor in Raleigh, NC, 2016
Adjunct Clinical Faculty UNC School of Dentistry, Chapel Hill, NC
University of Kentucky College of Dentistry Community Faculty
Participated and/or led 20+ International Dental Mission Trips
Private practice Comprehensive Dentistry Raleigh, NC, 35 years
University of Kentucky Distinguished Alumni Award, 2019- Dr. Adams was awarded this honor in 2019, however, due to Covid, Dr. Adams was unable to accept the award. This October, Dr. Adams will travel to Kentucky to officially accept this reputable award. More to come…
We are fortunate to have Dr. Adams as one of our talented leaders at Adams and Cheek Dentistry. His compassion for patients and dedication to service is felt by the patients he serves and the staff that supports him. If you would like to make an appointment with Adams and Cheek Dentistry, please call us at 919-866-1360 of click here to reach us online.