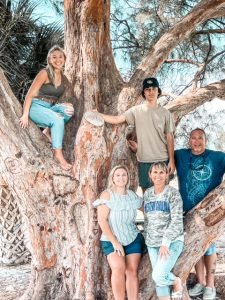 Adams and Cheek Dentistry is fortunate to have an amazing staff who work together to make this practice all that it is. We want to take some time to highlight each of our wonderful team members and let our patients know a little more about them than they may already know! This month, we shine the spotlight on Tamara!
Tamara is one of our hygienists at Adams and Cheek Dentistry. She has been with the practice for over 18 years! She says she loves both the personal and dental interactions with her patients.
Tamara and her family moved to North Carolina in the summer of 2002. Shortly after she arrived, she began working for Dr. Adams as a dental hygienist. Tamara enjoys living in North Carolina with both the beach and the mountains within driving distance.
Tamara has three children who occupy most of her free time. Her oldest daughter is married and expecting a new baby in the fall! Tamara is so looking forward to being a grandma! Her middle child is in the process of finishing up her college education at ECU. Tamara's baby boy is about to head off to college at UNC-Charlotte. .
As many of you  know, Tamara loves to travel. Tamara's dream vacation would be to Bora Bora. Her other interests include boating, cooking, gardening and relaxing with a good book. You can also find her cheering on the Hurricanes hockey team when she gets the chance!
Tamara spends most of her time away from work at either a lake or ocean. She enjoys the peace that it brings her. She feels fortunate that her extended family lives close by.
Is it time for your dental hygiene appointment? Please call us at 919.866.1360 or click here to schedule an appointment.