Missing teeth affect your smile, bite, and overall health. When possible, dental implants are the best tooth replacement option because they replace both the missing root and crown of the tooth. Fortunately, Adams and Cheek Dentistry offers implant services for our patients.
What Is a Dental Implant?
A dental implant is a titanium screw placed in the bone to replace the root portion of a tooth. After integrating into the bone for 3-4 months, our dental lab makes an implant crown to attach to the implant, completing the restoration.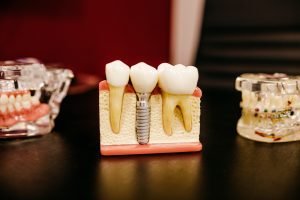 Benefits of Dental Implants
Replace one or more teeth without affecting adjacent teeth.
Provide support for dentures to make them fit more securely.
Dental implants with the attached crowns will look and feel like your natural teeth. No one will know they are implants unless you tell them!
Bone level is preserved which maintains jaw integrity, preventing a sunken look to your face.
High success rate with low pain. The supporting bone of your mouth has minimal nerve innervation, which makes for a relatively easy healing process.
Dental implants are not susceptible to decay.
Dental implants require similar homecare to your natural teeth.  Therefore, brushing, flossing, and regular dental appointments are imperative to keep your dental implants in good shape.
Schedule your appointment today to find out if dental implants are a good option for you! Call Adams and Cheek Dentistry at 919-866-1360 or click here to reach us online.