Reasons To Clean In Between Teeth
Cavity Prevention
Interdental cleaning removes bacteria from between the teeth. This bacteria causes decay when left on the teeth too long. Even the best brushers can only remove so much bacteria with a toothbrush. 
Reduced Risk for Periodontal Disease
Periodontal disease is inflammation that affects the tissue and supporting bone around the teeth. It is caused by bacterial growth in the mouth. Over time, bacteria that rests under the gum tissue begins destroying the bone around the teeth. Interdental cleaning is the best way to remove the bacteria that causes periodontal disease.
Fresh Breath
Plaque and food left between the teeth after brushing causes bad breath or halitosis. After several hours, or even days, the food between the teeth begins to rot causing bad breath. 
Less Sensitivity
When plaque is left between teeth, it starts to demineralize the tooth surface. When this breakdown occurs, teeth become sensitive to cold or sweets. 
Reduced Risk for Diabetes and Heart Disease
Bacteria that enter the blood stream from inflamed gum tissue has been linked to diabetes and heart disease. Cleaning in between teeth daily reduces inflammation and bleeding of the gums and, hence, reduces the risk for these diseases.
Floss Alternatives
Water flosser
Water flossers are excellent tools to aid in cleaning between teeth, under bridges, and around orthodontic brackets. Patients often prefer this tool to flossing since it is difficult to floss under bridges and reach posterior teeth.
Interdental brushes
Interdental brushes, or go between brushes, are helpful in cleaning between teeth especially in spaces that are wider than floss. Patients also find these tools to be useful when on the go!

Flossers
Floss sticks make it easier to reach posterior teeth. Patients also find these tools convenient and easier to use than putting their fingers in their mouth. 
Toothpicks/Soft-picks
Toothpicks and toothpick alternatives are convenient ways to clean in between teeth. These picks also stimulate the gum tissue, as flossing does, to promote firm, healthy gums.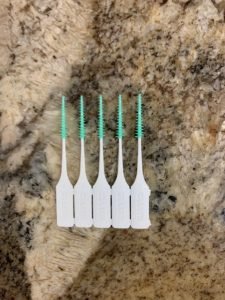 The staff at Adams and Cheek Dentistry are always happy to advise patients on what types of floss or flossing alternatives that are right for you! Please call us at 919.866.1360 or click here to reach us online.