When a tooth needs a crown, there are actually four options in materials: gold, porcelain-fused-to-metal, all ceramic, and zirconium. Specific conditions usually dictate which material is best for different situations.
It is important to discuss your options with your dentist as every case and each decision is personal for each patient. Our team at Adams and Cheek Dentistry is always here to answer any of your questions. This blog post aims to simply provide some baseline information to help you begin to make your decision.
Porcelain Crown
For anterior (front) teeth, all porcelain is the way to go. Our on-site lab makes our all porcelain, or all ceramic, crowns at Adams and Cheek Dentistry and matches the shade perfectly to your surrounding teeth. They have no metal in them and, therefore, will not develop a dark shadow or expose a dark edge next to your gums over time.

Gold Crown
Gold crowns are the strongest material we can use for crowns. This material wears the most similarly to tooth enamel and is ideal for people with strong jaws who grind or clench their teeth. If you have chipped or cracked teeth in the past, gold may be the best option for you. A gold crown has the longest lifetime of any material and is a popular option for dentists' own teeth. We often recommend gold crowns for back molars that are not in view when you smile.

Porcelain Fused to Metal Crown
Porcelain fused to metal, or PFM, is yet another option. These crowns have been around for years and are a combination of the two. A custom made porcelain layer is fused to a metal base which protects the existing tooth structure. Porcelain-fused-to-metal crowns are a good option for back teeth in individuals who really do not want to see gold anywhere in their mouth.

Zirconium Crown
Zirconium crowns are often used as a strong, cosmetic option for posterior (back) teeth. This material is close to the strength of gold, but looks like a natural tooth.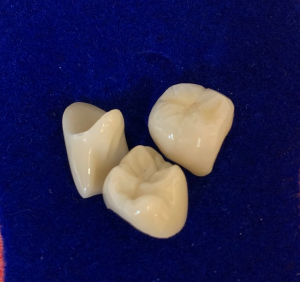 The staff at Adams and Cheek Dentistry is here to educate our patients and to help them make the best choice for their specific situation. Please call us at 919.866.1360 or click here to schedule an appointment.