Cavities.  The word everyone doesn't want to hear when you come to your Raleigh Family Dentist.  But what exactly are cavities?
A cavity is a hole in the enamel of a tooth that is caused by tooth decay. Untreated, a cavity may lead to infections and more severe oral health problems. As your Raleigh Family Dentist, we believe it is important to educate our patients on the origin and risks of tooth decay.
Bacteria that live in your mouth feed on the foods you eat; specifically carbohydrates and sugar and then excrete acid onto your teeth where they reside.
An important part of keeping healthy teeth is avoiding sugary foods and simple carbohydrates.  However, this alone will not prevent cavities.  A strict dental hygiene routine at home, combined with routine visits to your Raleigh Family Dentist at least twice a year, provide a good defense system against developing cavities.
When you do have a cavity, it is important to get it filled or crowned as soon as possible so the cavity does not get larger.  Larger cavities mean larger fillings and in some cases, crowns or root canals.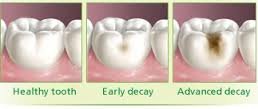 Tooth decay occurs when bacteria and food are left in your mouth and not removed in a timely manner.  Plaque begins to form on your teeth within minutes of eating or drinking and clings to the surfaces of your teeth.  Brushing and flossing as soon as possible after meals prevents the plaque from calcifying into tarter which is very difficult to remove with brushing and flossing alone.
At your routine dental appointment at Adams and Cheek Dentistry, your Raleigh Family Dentist, we will remove tarter that has formed on your teeth and check for potential cavities.  Routine visits and a great dental home care routine are both necessary to keep healthy gums and teeth.
To read more about how cavities form and how to avoid them check out Colgate's Oral and Dental Health Resource Center.
To schedule a dental visit at your Raleigh Family Dentist to remove tarter and check for cavities, click here.  Or call Adams and Cheek Dentistry at 919-866-1360.