When to Consider Porcelain Veneers
Have you ever wished for a more beautiful smile?  Would you change the shape, size, or color of your teeth if you could?  If so, you could be a candidate for porcelain veneers.
Porcelain veneers are thin pieces of tooth colored porcelain covering the front of a tooth.  Veneers can be used to close small gaps, or to change the color, shape, or size of your front teeth.  Veneers are a cosmetic dental procedure and should be done by a very skilled dentist.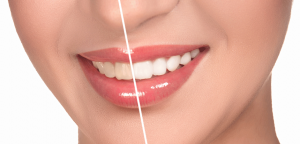 The first step in considering porcelain veneers is a consultation with your dentist.  Not all dentist do veneers and not all patients are good candidates for veneers.  Your dentist should ask you why you are considering veneers and what you would like your smile to look like as a final result.  The dentist will be able to determine if you are a good candidate for veneers.  If you are, he will show you which shade, size, and shape of veneers will look the best and most natural on you.  Veneers are sculpted to each individual patient's teeth making them virtually impossible for others to tell the difference between a veneer and a natural tooth.
Some people may need straightening of the teeth before getting their veneers; your dentist may need to refer you to an orthodontist if this is the case.
The natural tooth must be prepped for the restoration therefore removing a small amount of tooth structure.  As with any restoration, you must be extra committed to your oral home care routine.  The margin where the veneer meets the natural tooth structure must be kept extremely clean which means brushing at least twice a day for a full two minutes and flossing daily.
Dr. Adams and Dr. Cheek are both highly skilled in making porcelain veneers. We would be more than happy to set up a consultation for porcelain veneers or any of the other cosmetic procedures we offer here at Adams and Cheek Dentistry.  Please call us at (919)866-1360 to set up an appointment today or click here to schedule online.
The American Association of Cosmetic Dentistry provides more information on porcelain veneers here.