Have you ever been told you have gum disease or periodontal disease?  Have you been told you need periodontal treatments?  Many patients need periodontal treatments but are not fully aware of what that means.
Periodontal diseases are infections of the structures around the teeth. These include the gums, the cementum that covers the root, the periodontal ligament and the alveolar bone.
Periodontal diseases range from simple gum inflammation to serious periodontitis which can result in major damage to the soft tissue and bone that support the teeth. In the worst cases, teeth are lost.
Periodontal disease is multifactorial and can develop at different speeds. At your regular dental recall appointment, the dental hygienist will perform a periodontal evaluation which consists of full mouth probing and a visual inspection of the gums.
Healthy gingiva is pink, firm, and does not bleed upon flossing or probing. The full mouth probe will provide measurements in millimeters reflecting the distance from where the gums attach to the tooth to where you see them in your mouth. Healthy periodontium is 1-3mm, 4mm reflects gingivitis, and 5mm pockets and above indicate periodontitis.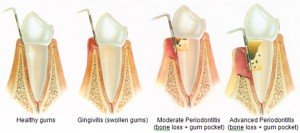 Periodontal Treatments also range in severity. The first step is a nonsurgical special cleaning called scaling and root planing often referred to as a "deep cleaning". Your dentist will numb you so you are comfortable and your dental hygienist will clean under the gums to remove the plaque and calcified bacteria beneath the gumline. Adjunctive antibiotics such as Arestin are often placed to optimize the healing results of scaling and root planing.
Once the bacteria is removed, the gingiva (gum tissue) around the teeth can heal and reattach higher on the tooth, resulting in a shallower periodontal pocket.
If patients fail to respond to scaling and root planing, or have very advanced stages of periodontal disease, they may be referred to a periodontist for additional periodontal treatments. A periodontist specializes in periodontal disease and can perform advanced procedures such as periodontal surgery or LANAP. LANAP is a laser procedure that opens the pocket, debrides the debris, and then compresses the pocket forming a clot that allows for optimum periodontal bone regrowth. To read more about the LANAP procedure click here.
Keeping up with your normal dental cleanings at Adams and Cheek Dentistry, combined with excellent homecare, will give you the best chance at avoiding periodontal disease.
If you have any questions about periodontal disease or periodontal treatments we will be happy to answer any questions. Please call Adams and Cheek Dentistry today at (919)866-1360 to set up your next appointment!