It's a recommendation we make at every appointment, "Please be sure to floss daily."  Or a question we ask, "Are you flossing?" Patients have heard it so many times over the years, we probably sound like broken records. Additionally, it may have patients wondering how important it really is to floss daily. Is there a good reason behind the recommendation, or have we just been trained to say it?
As it turns out, flossing is extremely important when it comes to oral health as well as systemic health. Let's look at some good reasons to keep that floss on the counter as a reminder to use it daily!
Benefits of Flossing
Cavity Prevention
Flossing removes bacteria from between the teeth. This bacteria causes decay when left on the teeth too long. Even the best brushers can only remove so many bacteria with a toothbrush. When you skip the floss, you leave a substantial amount of plaque and bacteria behind which cause decay.
Reduced Risk for Periodontal Disease
Periodontal disease is inflammation that affects the tissue and supporting bone around the teeth. It is caused by bacterial growth in the mouth. Over time, bacteria that rest under the gum tissue begins destroying the bone around the teeth. Flossing is the best way to remove the bacteria that cause periodontal disease.
Fresh Breath
Plaque and food left between the teeth after brushing cause bad breath or halitosis. After several hours, or even days, the food between the teeth begins to rot causing bad breath. The thought of rotting food in your mouth alone should motivate anyone to floss daily!
Less Sensitivity
When plaque is left between teeth, it starts to demineralize the tooth surface. When this breakdown occurs, teeth become sensitive to cold or sweets. Additionally, lack of flossing leads to gingival inflammation. When the inflammatory response occurs in gum tissue, it becomes sensitive or painful to floss. Often times it is difficult to stay motivated to floss once the gums become sore. However, if patients can "push through" the pain, after a few days of regular flossing the gums will start to feel better.
Reduced Risk for Diabetes and Heart Disease
Bacteria that enter the blood stream from inflamed gum tissue has been linked to diabetes and heart disease. Flossing daily reduces inflammation and bleeding in the gums and, hence, reduces the risk for these diseases.
Proper Flossing Technique
It is important to slow down and take your time when flossing. To be most effective, the floss needs to hug the tooth in a c-shape and rub the side of the tooth all the way underneath the gum line.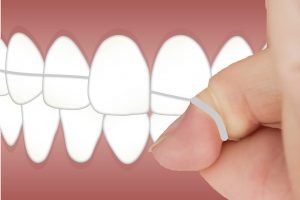 The clinical staff at Adams and Cheek Dentistry are happy to review flossing techniques at any dental visit. Please don't hesitate to ask any questions you may have! You can reach us at 919.866.1360 or click here to reach us online.