A common question we get at Adams and Cheek Dentistry is: Why am I grinding teeth?
The most common answer is stress; however, grinding and clenching is often linked to other reasons as well.
In times of stress, patients are more likely to clench their jaw and grind their teeth which can lead to occlusal wear, chipping, and even fractures of teeth.
Another reason for clenching and grinding is malocclusion. Malocclusion is a word meaning the way your top and bottom teeth meet is not ideal. If your teeth do not come together in the correct way, your jaw can be held in an unnatural position. Your jaw will then naturally try to find a balanced position which leads to grinding.
Grinding in children is not uncommon. It can start as a habit and is often linked together in families. A genetic or hereditary link has been suspected but not proven.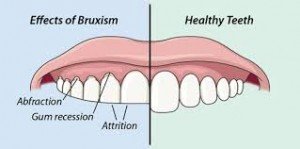 Some symptoms of grinding and clenching are a sore jaw, headaches when you wake up, and chipped or fractured teeth. If you have any of these symptoms make sure to mention it to your dentist or dental hygienist.
At Adams and Cheek Dentistry we make custom night guards which will prevent you from grinding and prevent further damage to your teeth and jaw. We can also help repair damage that has been caused to your teeth such as chips or fractures. Please contact us at (919) 866-1360 to make an appointment today. Or click here to schedule through our website.
To learn more about teeth grinding (aka bruxism), here is a helpful video!