Adams and Cheek has been an established family dentist Raleigh for years. We have been fortunate to attract a population of patients that become family as well as clients in our practice.
Your well-being is always our preeminent concern. Many of us have been working together here at Adams and Cheek for many years. We have a strong sense of family amongst ourselves as we serve you. The commitment we have to one another breeds confidence for our patients.
There are several benefits to choosing a family dentist for your family's dental needs:
Oral Care for all Ages: Family dentists know how to provide care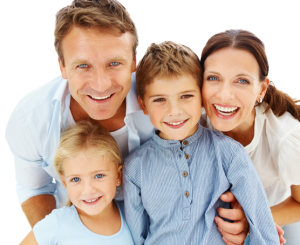 for different ages and generations. Everyone in your family can get regular cleanings and exams from the same office. This will help you teach your kids about the importance of good oral practices. Children will have consistency being taught proper oral hygiene habits from you as parents with reinforcement from our dental team. They can even observe your visits to the dentist before their first appointment to establish trust and comfort at our Family Dentist Raleigh.
Convenient Visits: You'll be able to save time and money by having the same dentist treat the whole family. Instead of taking time off from work and driving to your dentist, then repeating the process a different day for your kids, you only have to leave work once and take everyone to the same place. At Adams and Cheek we offer evening and Saturday appointments and will be happy to schedule your family's appointments at a convenient time.
Lifelong Dentistry: As your Family Dentist Raleigh, we pride ourselves on having long lasting relationships with our patients. When you choose a family dentist, your children won't have to find a new practitioner when they become adults. With a family dentist, all of your child's dental records will stay in one place, providing stability along with excellent quality and continuity of care.
Personal Relationships: By spending time in the dentist's office as a family, you'll develop a personal relationship with the doctors and office staff. This will give you the confidence to ask about any oral health care concerns you have and will help you get the best care possible. Personal dentist-patient relationships improve communication and establish trust which results in optimal dental care. Our families are all patients here as well as having several family members as part of our dental team. Charlotte, our Accounts Payable, is Dr. William Cheek's mother! Ashley, our practice coordinator, and Julie, our Financial Coordinator are a mother-daughter pair!
The Consumer Guide to Dentistry provides more information on what a family dentist is and the benefits of choosing one.  Click here to read more.
Here at Adams and Cheek Dentistry we are honored to have your family be part of ours. Please call us at (919)866-1360 to make an appointment or click here to schedule online.