There's an App for That!
We live in a world of technology.  There are constantly new apps being created to link our everyday activities to our smart phones, computers, and tablets.  Finally, oral-health is no different!
P&G Productions has created the Oral-B App, your personal brushing assistant!
P&G describes the dental app…
"You'll get real-time feedback on your brushing. You'll know if you're brushing too hard, if you've brushed long enough and even if your brushing habits have improved over time. The Oral-B SmartSeries delivers clinically proven superior results, so you won't wonder if you're getting a superior clean, you'll know."
The App Features include brush timers, customizable brushing routines, provides links to dental professional care, brushing stats and achievements, brush head replacement alerts, appointment alerts, oral care tips, and even news, and weather directly in the app, delivered to you while you brush so you don't waste a minute of your day.  See the video below from Oral-B to find out more about the dental app.
So what does this mean for patients?
Obvious features are optimized homecare, performance and ease.  Our other favorite feature of the dental app is the monitoring!  The app collects brushing data over days, weeks, even months, allowing individuals, parents, dental hygienists, or dentists to analyze brushing times, habits, and customize dental care to each patient's specific needs.
The App is free to download in Itunes and GooglePlay.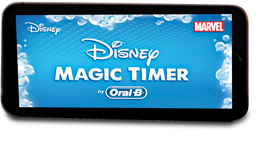 Another fun dental app option specifically for our younger patients is the Free Disney Magic Timer app by Oral-B.  This one does not specifically require an Oral-B Bluetooth enabled Power Brush and is a great motivation to keep kids brushing longer!
Adams and Cheek Dentistry has the Bluetooth enabled Oral-B Power toothbrushes available for purchase at our office in Raleigh, NC.  Make sure to locate us on the dental app to track appointments and work with your hygienist to create a personalized homecare routine with our professional recommendations.