Are you confident in your smile?  Have you ever wished you could straighten, whiten, or altogether change the appearance of your teeth? Adams and Cheek Dentistry can help! A smile is the first thing people notice about you and is an international sign for happiness.  We believe everyone deserves a smile they are proud of. Here at Adams and Cheek Dentistry, we offer several different options of cosmetic dentistry for you to improve the appearance of your smile.
Whitening
Whitening your teeth is the first thing most people think of when they hear cosmetic dentistry.  Adams and Cheek offers two solutions for whitening your teeth.  We offer custom made whitening trays as well as an in-office whitening procedure to lighten the shade of your natural teeth. Click here for more information on tooth whitening.
Veneers
Veneers are thin, tooth covering "shells" that fit on the front side of teeth and provide an option for changing size and color of front teeth. To explore if you are a candidate for veneers, click here.
All Ceramic Crowns
All ceramic crowns are another option to change the size, shape, and overall color of teeth. Unlike veneers, crowns cover the teeth on all sides. For more information on crowns, click here.
Bonding
Bonding is filling material matched to the specific shade of your teeth used to fill in chips or small gaps in between teeth. It is a less expensive alternative to veneers when the need is minimal and able to be less invasive.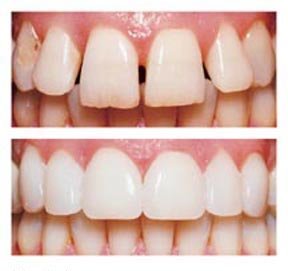 You deserve a smile you are proud to show to the world! Call Adams and Cheek Dentistry at 919.866.1360 or click here to schedule your appointment today.